Wisconsin at a Crossroads: 2011 Guide to the Wisconsin Supreme Court
The power of the Wisconsin Supreme Court to impact individuals and businesses can equal or exceed that of the Legislature or the Governor. Yet, few people understand who the Justices are and how their decisions shape our lives and economy.
The Wisconsin Civil Justice Council (WCJC) has undertaken a biennial Judicial Evaluation of the Wisconsin Supreme Court. Our purpose is to educate WCJC's members and the public by providing a summary of the most important decisions issued by the Court which have had an effect on Wisconsin's business climate and to identify trends in how individual Justices voted.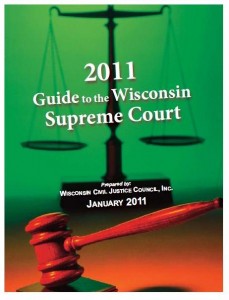 Our 2011 analysis shows the Court at a crossroads between a judicially conservative Court that favors business growth and judicially liberal control that threatens Wisconsin's economic climate.
Our entire analysis, including all of the business related court decisions we examined, can be found at:
What's at Stake – A Review
In 2004, former Justice Diane Sykes left the bench after her appointment to the United States Court of Appeals, Seventh Circuit by President George W. Bush. Governor Jim Doyle filled Judge Sykes' vacant seat with the appointment of Milwaukee County Circuit Court Judge Louis Butler, who previously ran against Judge Sykes for the Wisconsin Supreme Court and lost.
With the shift in power, the court began issuing controversial decisions that significantly impacted Wisconsin's law. Scholars and pundits noted the court's new judicial philosophy and penchant to overturn existing case law and create new judicial doctrines. Joseph Kearney, Dean of Marquette University Law School, explained that "[b]y any measure, this was an extraordinary year at the Wisconsin Supreme Court. From tort law to criminal law, the court was willing to depart from what had seemed to be settled approaches."
Two cases in particular exemplified the Wisconsin Supreme Court's sudden anti-business, pro-plaintiff jurisprudential philosophy: Ferdon v. Wisconsin Patients Compensation Fund and Thomas v. Mallett. In Ferdon, the Court rewrote the test for evaluating challenges to state statutes under the Wisconsin Constitution by striking down the statutory limit on noneconomic damages in medical malpractice cases. In Thomas, the Court eliminated the individual causation requirement for tort liability in lawsuits against manufacturers of lead-pigment by expanding the "risk contribution" theory, which places liability on all manufacturers when the specific manufacturer cannot be identified.
In an article titled "Alabama North," The Wall Street Journal called the Thomas decision "the first of its kind in the country" establishing dangerous precedent by dispensing with the "traditional legal standard for torts – which is to establish actual connections between wrongdoing and injury – and [replacing] it with a chain of speculation and conjecture…"
Related Links