The Wisconsin Civil Justice Council (WCJC) was formed by leading Wisconsin business organizations to counter the plaintiffs' bar's attempts to make it easier to sue businesses.
In a defining effort, the Wisconsin Legislature, with Gov. Walker's leadership, enacted sweeping civil justice reforms during the contentious 2011-12 Legislative Session. Landmark reforms relating to product liability, expert opinion testimony, risk contribution, and caps on punitive damages, among others, turned Wisconsin's souring litigation and business climate into one of the most competitive jurisdictions in the country from a litigation standpoint. Click here to read WCJC's in-depth summary of the reforms and here to see a list of the reforms.
For WCJC, the first portion of the 2013-14 legislative session has been very active and successful. Numerous bills supported by WCJC have received public hearings, passed the Assembly and await action in the Senate. We fully expect the Senate to pass these bills when the Legislature reconvenes in the fall. Click here for an update on bills supported by WCJC.
Start getting Wisconsin's most in-depth coverage of civil justice issues in your inbox by subscribing to WCJC's FREE email newsletter. Links to background documents are provided to allow you to more fully assess the issues that are important to your business and life.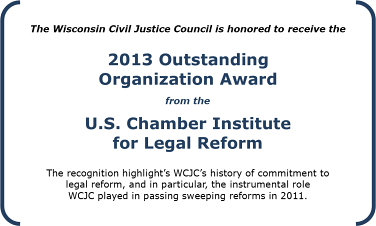 In recognition for its role in passing sweeping legal reform in 2011 and its continued commitment to combating lawsuit abuse, WCJC has been selected as the recipient of the 2013 U.S. Chamber Institute for Legal Reform Outstanding Organization Award.
"This award acknowledges WCJC's work with state lawmakers and the Walker administration in enacting legislation to promote business and job growth in Wisconsin," said Bill G. Smith, WCJC President and State Director for the National Federation of Independent Business (NFIB).
WCJC's Executive Director, Robert Fassbender, accepted the award on behalf of WCJC's 18 member board and litigation reform partners on October 23 at the U.S. Chamber Institute for Legal Reform's 14th Annual Legal Reform Summit in Washington, D.C.
To continue WCJC's mission of promoting fairness and equity in Wisconsin's civil justice system it will take substantial resources. Please consider making a contribution to the Wisconsin Civil Justice Council, Inc.
Please feel free to contact Andrew Cook or Robert Fassbender, WCJC staff at the Hamilton Consulting Group, with any questions or comments about the Wisconsin Civil Justice Council.